|Cygnus-X1 Home| --- |Message Forums| --- |Chat Boards| --- |Books dB| --- |Episodes dB| --- |Blueprints dB| --- |Email Me| --- |Guestbook|


|Back to the Main Menu|
---
There are 12 active users currently online

---
---
Star Trek Blueprints: 1964 Jefferies Construction Plans


---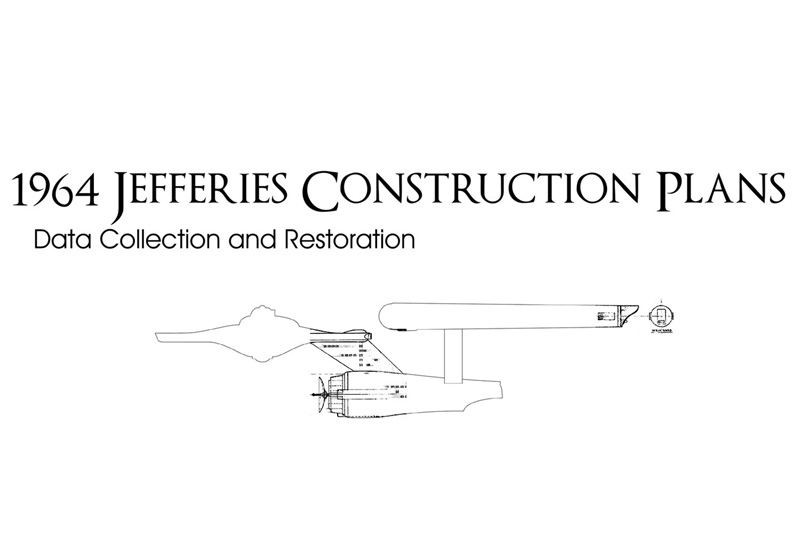 ---
Illustrator: David Shaw
Copyright: 2007

Summary:

This is the best representation of the original Jefferies plans for the Enterprise from 1964. All elements are to scale with the illustrated measurements.

The diagram and data illustrated on it represent the best public information I have been able to currently collect. Where ever possible I have used Jefferies original drawings to create the shapes. I have also tried to avoid any of the model elements if possible as this diagram is intended to provide as clear a representation of the original construction plans as can be discerned today.

The aft nacelle, forward secondary hull, dorsal support and aft primary hull elements from Jefferies original drawing are overlaid on the diagram to show where many of the curve elements were derived from.
Additionally, after correcting for distortions, I also made use of the writers guide diagram of the Enterprise.

Mark Gagen has eluded to having copies of the original plans and released a diagram of the bridge based on them (while not providing any actual images of the original drawing itself). As I have no reason to believe that his diagram is flawed, I have based the size and shape of the bridge on this set of diagrams on what he provided.
---
Used with express permission from David Shaw
---
Click on any thumbnail image below to view the larger image
---
---
---
---
|Back to Main Blueprints Page|
---
---
Copyright 2016 Patuto Enterprises. All Rights Reserved. "Cygnus-X1.Net" and the "Star Trek LCARS Book / Episode /Blueprints Database" is in no way associated with nor endorsed by Paramount Pictures and/or Viacom; Pocket Books and/or Simon & Schuster; their parents or their affiliates. "Star Trek" et al and any/all related names, marks and/or insignias are trademarks of Paramount Pictures. No infringement on the rights of Paramount Pictures or the authors/illustrators or publishers of the books/episodes/blueprints included within this site is intended. Remarks made within the 'Forums' section of this site do not necessarily reflect the opinion of the webmaster.

---
This page has been viewed 51754 times since May 27th, 2008