There are 14 active users currently online
---
---

STAR TREK
The Original Series


---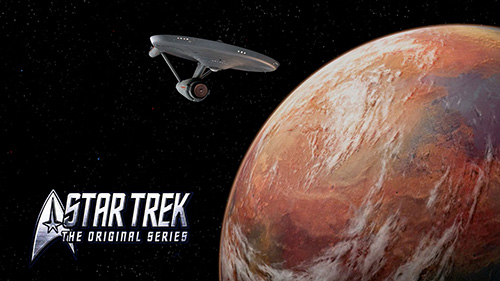 ---

Series: Star Trek: The Original Series - (1966-1969)
Season: 2
Episode #: 34
Original Airdate: 9/15/1967

Writer(s): Theodore Sturgeon
Director(s): Joseph Pevney

Guest Stars
Celia Lovsky as T'Pau
Arlene Martel as T'Pring
Lawrence Montaigne as Stonn

Stardate: 3372.7

Synopsis
When Spock begins to exhibit strange, erratic behavior, Kirk asks McCoy to conduct a medical examination. McCoy concludes that Spock is experiencing a potentially lethal internal distress.

Spock explains to them that Vulcans are married as children with the understanding that they will fulfill this commitment when they become adults. Spock has reached this time, the "pon farr," and if he doesn't get to Vulcan immediately to mate with his bride, T'Pring, he will die. Kirk jeopardizes his career by disobeying a direct order to the contrary from Starfleet, and proceeds with all possible speed to Vulcan. As Spock's friends, Kirk and McCoy are invited to witness the marriage ritual - the "Koon-ut-kal-if-fee." T'Pau, a highly respected member of the high-counsel, will conduct the ceremony.

Trouble starts when T'Pring announces she would rather marry Stonn, a full Vulcan. T'Pring evokes her right to have Spock fight for her. However, she chooses Kirk as her champion. Fearing his friend is too weak to fight, Kirk agrees. It is only then he is informed that it is to be a fight to the death.

The fight ensues and Spock quickly demonstrates physical superiority. McCoy objects to T'Pau that Kirk isn't used to the Vulcan atmosphere and climate. He asks to inject the captain with a tri-ox compound to compensate. T'Pau agrees and Kirk is given the injection.

During the fight, Spock kills Kirk and McCoy accompanies the captain's body back to the U.S.S. Enterprise. Spock, his mating urges curbed by the knowledge that Kirk, his friend and captain, is dead by his own hand, relinquishes T'Pring to Stonn. He solemnly returns to the starship. There he finds Kirk alive and well, having been injected not with tri-ox, but with a knock-out drug which simulated the signs of death. Overjoyed, Spock smiles and utters a delighted "Jim!" before returning to his controlled, logical self.

Review
"Live long and prosper, Spock."

"I shall do neither for I have killed my Captain - and my friend."

What a fantastic way to start off season #2 - with an episode on the caliber of "Amok Time" which has some superb writing and characterizations as witnessed by the above line. To see Spock at such odds is incredible. To realize that the sturdy Vulcan did have a weakness - albeit one that rears its ugly head every seven years - is humbling. And to share the grief with Spock at the slaying of Captain Kirk is television tension at its finest.

"Amok Time" was a great way to learn more about the mysterious Vulcan and his people and home world. It set the stage for many more Vulcan-specific episodes, books, movies and more. Credit Leonard Nimoy with furthering the experience of Spock and making him absolutely believable in every way.

Spock grows in this episode - and we learn that sometimes his human side is closer to the surface than he would like to admit. And while Kirk and McCoy both realize this, they also respect their friend's decision to remain a stout Vulcan - even if McCoy jabs at him from time to time.

|Back| -- |Home|
---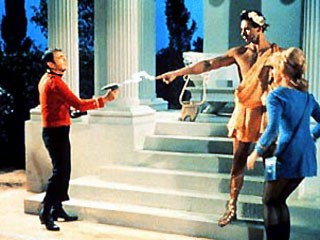 Series: Star Trek: The Original Series - (1966-1969)
Season: 2
Episode #: 33
Original Airdate: 9/22/1967

Writer(s): Gilbert Ralston & Gene L. Coon
Director(s): Marc Daniels

Guest Stars
Michael Forest as Apollo
Leslie Parrish as Lt. Carolyn Palamas
John Winston as Lt. Kyle

Stardate: 3468.1

Synopsis
As the U.S.S. Enterprise nears the planet Pollux IV, a huge, green hand made of energy materializes in space, catching the U.S.S. Enterprise and holding it captive. Kirk and a landing party are transported to the planet's surface where they find a being who claims to be Apollo, the last of the Greek gods who dwelled on ancient Earth's Mount Olympus. All the other gods, Apollo tells Kirk, died of loneliness when they left their home of Mount Olympus. Apollo's plan for the U.S.S. Enterprise crew is that they settle on Pollux IV and worship their god, Apollo.

Sensors show that Apollo's god-like abilities come from an organic ability to use energy from sources outside himself. His apparent powers include storms, thunderbolts and an ability to grow into a giant, towering above the Enterprise landing party.

Attempts to foil Apollo's plans are hampered by Lieutenant Carolyn Palamas, who has fallen in love with the god and whom Apollo decides will be his bride. Scotty, who has beamed down with the party, had harbored hopes of romance with the young lieutenant and objects to Apollo's attentions. Apollo's response is to hurtle the engineer through the air by way of a thunderbolt.

Spock determines that the god's powers come from his temple. When Kirk tells Lt. Palamas to reject Apollo, which she reluctantly does, the captain uses the U.S.S. Enterprise's weapons to destroy Apollo's temple. Apollo, rejected by a mortal woman and bereft of his powers, spreads himself upon the winds to join his fellow gods.

Review
Up to this point, the valiant crew of the Enterprise had faced many different foes - both living and mechanical. But this time out, they're up against a bona fide Greek god. And while I'm sure many balked at the notion that the Greek Gods of ancient times were merely super-powerful aliens who decided to 'visit' the Earth and make a home atop Mt. Olympus, I found the explanation quite intriguing.

It's interesting to see how Apollo acts - and reacts - with the crew of the Enterprise. Exhibiting an almost disbelief at how the humans treated him; how they really wanted nothing to do with him; how they resisted living out the rest of their lives worshipping him. It brings a god-like being down to human levels, a feat expertly portrayed by Michael Forest in the role of Apollo.

"Adonais" also marks somewhat of a first for network television, though some dispute this. A rape scene. Apollo, in all of his wrath, did actually 'rape' the lovely Lt. Palamas in the third act of this episode. The attack was more implied than shown, and we never do learn if he actually impregnated her (that would have made for an interesting episode in and of itself), but the attack occurred nonetheless.

This is an interesting episode on many points, but to see how a mighty god, who once commanded the love and respect of millions, could be brought down to human levels and ultimately destroyed is, if nothing else, a sad story. And that regret at doing so is a point not lost on Kirk and company.

|Back| -- |Home|
---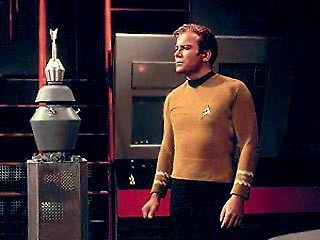 Series: Star Trek: The Original Series - (1966-1969)
Season: 2
Episode #: 37
Original Airdate: 9/29/1967

Writer(s): John Meredyth Lucas
Director(s): Marc Daniels

Guest Stars
Blaisdell Makee as Mr. Singh
Vic Perrin as Nomad's voice

Stardate: 3451.9

Synopsis
The U.S.S. Enterprise is sent to investigate the destruction of the Malurian system and its four billion inhabitants. When it arrives at the coordinates, the starship itself is threatened by a space going, self-contained computer/probe calling itself Nomad. When Kirk identifies himself by name, Nomad mistakes him for "The Kirk," and thinks him to be his creator.

Nomad is beamed aboard the U.S.S. Enterprise and promptly erases Uhura's memory and kills Scotty, claiming that neither life form was perfect. At Kirk's demand Nomad repairs "the unit Scott," bringing him back to life.

Spock attempts a Vulcan mind meld with Nomad and learns that it was created on Earth in the twenty-first century by scientist Jackson Roykirk. Nomad's program was to seek out new life and report back to Earth. Damaged in space by a meteor, Nomad drifted until it found Tan Ru, an alien probe designed to sterilize soil. Using their self-repair systems, the two probes combined themselves into one. Nomad's programming was damaged and by joining with Tan Ru's now believes its mission is to seek out life and destroy anything that it does not believe perfect.

Kirk convinces Nomad that it had mistaken him, Captain James T. Kirk, for Nomad's creator, Jackson Roykirk, thus making Nomad imperfect and a candidate for "sterilization." A confused Nomad begins to self-destruct, exploding just after Kirk beams the changeling into space. Kirk checks on Uhura's progress after the attack by Nomad. McCoy informs him that her brain is undamaged and she must simply "relearn" what the probe erased.

Review
Where "Space Seed" was a prequel to Star Trek II: The Wrath of Khan, many see "The Changeling" as a launching pad for "Star Trek: The Motion Picture". If nothing else, the similarities between this episode and the first Trek movie are easy to pick off.

But on its own, "The Changeling" makes for a wonderful sci-fi romp which proves the message of "Size doesn't matter".

Once again, Kirk uses his own form of distorted logic to ultimately destroy Nomad, but it seems that a tremendous resource was ultimately lost with this act. Given that Nomad could literally kill someone and then bring them back to life was a wonder in and of itself. Wiping one's memory without damaging the brain is another accomplishment not to be toiled with. And finally the sheer power behind Nomad's arsenal is astounding.

For all of this to have been accomplished, morphed, what have you from the collision of two probes seems far-fetched - but it's never questioned, nor explored. Lost opportunity on many levels there.

Still, on a fun-factor scale, "The Changeling" rates up there with the best of Trek.

|Back| -- |Home|
---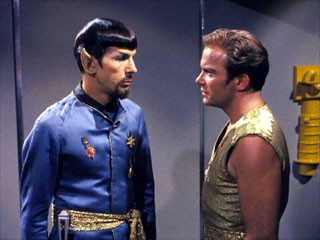 Series: Star Trek: The Original Series - (1966-1969)
Season: 2
Episode #: 39
Original Airdate: 10/6/1967

Writer(s): Jerome Bixby
Director(s): Marc Daniels

Guest Stars
Barbara Luna as Lt. Marlena Moreau
Vic Perrin as Tharn
John Winston as Computer Voice
John Winston as Lt. Kyle

Stardate: Unknown

Synopsis
Caught in the beginnings of an ion storm, Kirk, McCoy and Uhura interrupt their negotiations with the Halkans for dilithium crystals, to return to the U.S.S. Enterprise. Scotty beams the landing party aboard as a burst from the storm hits the starship. The transporter malfunctions, sending Kirk, McCoy, Scotty and Uhura into an alternate universe. In this world, they soon discover the "Galactic Empire" is maintained by fear and assassination. Now, aboard the Imperial Starship Enterprise, the four must find a way to remain undetected until they can return to their own universe.

Meanwhile, the parallel versions of Kirk, Scott, McCoy and Uhura have been beamed on board the positive U.S.S. Enterprise. Their behavior is so different from their counterparts that Spock immediately realizes something is wrong. He had the four imprisoned until the transporter could be checked and repaired.

On the I.S.S. Enterprise, the parallel Chekov is foiled in an attempt to assassinate Kirk. When Kirk refuses to give an order to destroy the Halkans, who have refused to give up their dilithium crystals, the parallel Spock becomes suspicious.

The Imperial Fleet sends a secret message to the parallel Spock, telling him to kill Captain Kirk and assume command of the starship. Finding an unexpected ally in the parallel Spock, Kirk continues to stall while his three comrades gather the information needed to send them back to their own universe.

Parallel Spock has no desire to become captain, and therefore a mark for assassination. Along with Lieutenant Marlena Moreau, who wants the parallel Kirk back because she is "the Captain's woman," they help return the four U.S.S. Enterprise officers to their own world. Before he goes, Kirk talks to the bearded Spock, telling him the advantages of a Federation-like system over the anarchy of this universe. Spock seems almost convinced that he should in fact get rid of his Kirk, seize control of the I.S.S. Enterprise, and manipulate the Imperial Starfleet into working toward a more civilized universe.

Review
The classic "Spock with a beard" episode is clearly one of the finest of all of Trekdom. It's amazing that the Next Generation never bothered to revisit this alternate universe as Deep Space Nine did during several episodes. But even if DS9 didn't touch upon the resources of this episode, "Mirror..." would have and remains a stand out episode that contains great action and story-telling elements that were abundant in Trek's first two seasons.

As we saw in "The Enemy Within", everyone has a dark side. "Luke, I am your father..."

Er. Um. Sorry - wrong universe.

But instead of just seeing Kirk's bad side in that episode, we get to see EVERYONE's bad side - even Spock's in this fantastic episode. The only thing missing from this episode, which has been done to an extent in print, would have been to spend more time with the counterparts that were forced into the 'proper' universe. As Spock indicated, it was easy for him to see that they were "imposters", but it still would have been interesting to see more of their reactions as they attempted to understand what had happened to them.

"Mirror" is arguably the best episode of the second season. Great, great fun.

|Back| -- |Home|
---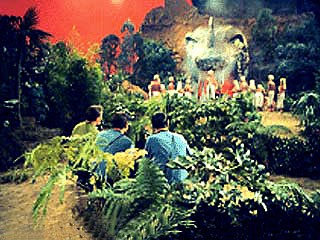 Series: Star Trek: The Original Series - (1966-1969)
Season: 2
Episode #: 38
Original Airdate: 10/13/1967

Writer(s): Max Ehrlich & Gene L. Coon
Director(s): Joseph Pevney

Guest Stars
Celeste Yarnall as Yeo. Martha Landon
Shari Nims as Sayana
Keith Andes as Akuta
David Soul as Makora

Stardate: 3715.3

Synopsis
When a landing party beams down to the planet Gamma Trianguli VI, they find what appears to be an idyllic paradise. They quickly discover, however, that the planet is deadly, sporting plants that shoot thorns, rocks that explode, and incredibly accurate lightning bolts.

With a much reduced party, they encounter the planet's inhabitants. They are a peaceful, child-like people who call themselves the "Feeders of Vaal." They dress in flowers and bright paint, never reproducing because they don't age or die. Each day they "feed" Vaal offerings of food. Vaal seems to be a large serpent's head carved of rock, but is actually the terminal for an advanced, underground computer. Seeing Kirk and his party as a threat, Vaal takes them prisoner and tries to pull the U.S.S. Enterprise from orbit.

Kirk realizes that by depriving Vaal of the natives' daily offerings of food, the computer won't be able to convert the offerings into reaction mass. Thus weakened, Kirk uses the U.S.S. Enterprise's phasers to destroy Vaal. This leaves the natives on their own to discover birth, death, and the everyday ways of life.

Review
Time to throw the Prime Directive out of the window again as Kirk & Company..well, mostly Kirk..decides to alter the seemingly perfect life of the inhabitants of Gamma Trianguli (love those planet names!)

Perfection, as we've often seen, in held up against Kirk's own view of the word. So when he sees that the "Feeders of Vaal" are nothing more than slaves to a machine, he decides to liberate them and have them fend for themselves.

The episode is 'okay' for the most part, but it seems like more of an excuse to show some 1960's female skin (albeit very cute skin) and promote Kirk as a bit of a tyrant. I think the episode would have been far stronger had the ending not been so perfect.

As McCoy and Spock eluded to in the closing scene, Kirk essentially acted like the snake in Eden, offering the people of Gamma Trianguli the 'Apple', thus forcing them out of their own Eden. Perhaps a better final shot would have shown those inhabitants lying around wondering what to do next.

They were, after all, essentially children. I wonder if they truly could have survived. Oh well, we'll never know as Kirk & Company were off to their next adventure...

|Back| -- |Home|
---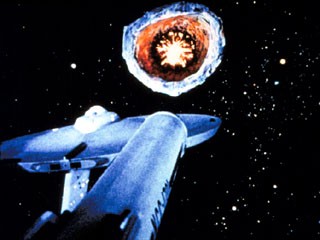 Series: Star Trek: The Original Series - (1966-1969)
Season: 2
Episode #: 35
Original Airdate: 10/20/1967

Writer(s): Norman Spinrad
Director(s): Marc Daniels

Guest Stars
William Windom as Matt Decker
Elizabeth Rogers as Lt. Palmer
John Winston as Lt. Kyle
Richard Compton as Washburn

Stardate: 4202.9

Synopsis
Sent to investigate the destruction of several planetary systems, the U.S.S. Enterprise discovers a crippled starship, the U.S.S. Constellation, floating in space. Commodore Matthew Decker is the only one left on the ship. Kirk and Scotty remain on board the Constellation to try and repair the starship, while McCoy beams Decker aboard the U.S.S. Enterprise.

Decker informs the crew that a giant robot ship, a planet-eating machine made by a long-dead alien race, is roaming the galaxies, consuming all in its path for fuel, including whole planets. When Decker challenged it, the "berserker," as he calls it, attacked. Decker beamed his entire crew to the planet's surface below, only to have the robot consume that planet, killing the Constellation's entire crew.

When the "berserker" returns, Decker, consumed with guilt over the loss of his crew, pulls rank on Spock and takes control of the U.S.S. Enterprise. He seems determined to destroy the machine, even at the cost of another ship and crew. Kirk, still on board the Constellation, contacts Spock and supports his claim that Decker is exhibiting suicidal behavior and is therefore unfit to command. Thwarted, Decker steals a shuttlecraft and flies it down the 'throat' of the giant robot ship, killing himself.

Realizing that Decker's idea, on a larger scale, might work, he sets the Constellation to self-destruct and send it after Decker's shuttlecraft. Due to a transporter glitch, Kirk barely makes it back to the U.S.S. Enterprise before the Constellation explodes, destroying the planet killer in its path.

Review
Another second season classic, "The Doomsday Machine" takes what could have been a silly premise; a planet killing robot; and turns it into the nail biting Trek episode of the season. Fueled by the believable and expert portrayal of Commodore Decker by William Windom ("Don't you think I know that?!?"), as well as the superb (for the time) special effects and visuals of the crippled U.S.S. Constellation, "Doomsday" delivers on all levels.

The notion of a doomsday device, especially in the turmoil of the sixties, is nothing new. The placement of it in the utopian Trek universe would have been questionable if done any other way than a 'mysterious' planet-killing robot coming from outside our galaxy.

But the moral message aside, this episodes works because of the obsessive, Ahab-like behavior of Commodore Decker is first scorned then understood by Kirk. Man against the ultimate machine and in the end, man wins - but not without suffering devastating losses in the process.

Another one of the best episodes of the series...

|Back| -- |Home|
---

Series: Star Trek: The Original Series - (1966-1969)
Season: 2
Episode #: 30
Original Airdate: 10/27/1967

Writer(s): Robert Bloch & D.C. Fontana
Director(s): Joseph Pevney

Guest Stars
Michael Barrier as Lt. DeSalle
Antoinette Bower as Sylvia
Theo Marcuse as Korob

Stardate: 3018.2

Synopsis
On the planet Pyris VII, two beings known as Korob and Sylvia have been sent on a mission of conquest by their home world. Using a matter transmuter, they assume human form to welcome the U.S.S. Enterprise landing party.

When one member of the initial landing party returns to the ship dead, Kirk, Spock and McCoy beam down to find Scotty and Sulu transformed into mindless zombies. Sylvia and Korob appear as witch and warlock and use scare tactics to keep the officers from investigating the planet and their motives. Kirk, Spock and McCoy are taken prisoner and shown examples of Korob and Sylvia's "powers," which includes heating a small model of the U.S.S. Enterprise over a flame and having the heat transfer to the orbiting ship.

Sylvia takes an interest in Kirk and decides to abandon her original mission in order to learn about human feelings and experiences. When she finds out the captain is merely using her to gain an advantage, she becomes furious and retaliates.

Korob ultimately helps the crew to escape, but Sylvia turns into a giant black cat and crushes him. Kirk then uses Korob's wand transmuter to destroy Sylvia's source of power - her amulet - before smashing the wand. Their powers gone, the aliens revert to their true form - fragile blue creatures who quickly die in the planet's atmosphere. With their demise, Scotty and Sulu return to normal and the landing party beams back to the U.S.S. Enterprise.

Review
Star Trek meets Halloween. In fact, this episode's original airing was just days before Halloween in 1967. The proximity to that holiday did little to improve the overall effect of this episode. It's pretty much a jumbled mess with two beings, who turn out to be puppets on strings (ok, I'll be kind) having near-supernatural powers which they use to - what else - try and take over the galaxy. Sounds like Pinky and the Brain almost...

The episode tries to establish a touch of fear with a touch of the unknown with a sprinkle of tension, but the ingredients don't mix well in this offering, the acting is barely passable, and the final scene as Silvia and Korob die cements the silliness of this episode.

Star Trek and the second season put out far better romps than this one. The only saving grace of the episode is the nice miniature model of the Enterprise that Silvia attempts to cook over a candle. One wonders what happened to that prop...

|Back| -- |Home|
---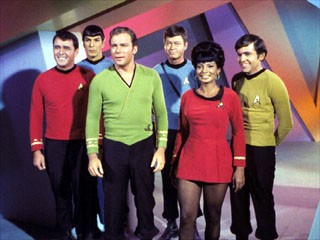 Series: Star Trek: The Original Series - (1966-1969)
Season: 2
Episode #: 41
Original Airdate: 11/3/1967

Writer(s): Stephen Kandel
Director(s): Marc Daniels

Guest Stars
Roger C. Carmel as Harry Mudd
Rhae and Alyce Andrece as Alice series
Kay Elliott as Stella Mudd
Tom and Ted Legarde as Herman series
Richard Tatro as Norman
Maureen & Colleen Thornton as Barbara series
Tamara and Starr Wilson as Maisie series

Stardate: 4513.3

Synopsis
Norman, an android pretending to be a member of the U.S.S. Enterprise crew, takes control of the starship and her crew, taking them to an unnamed planet where Kirk discovers an old nemesis - Harry Mudd.

Fleeing from his most recent criminal exploit, Harry crash-landed on the planet, which is inhabited by androids designed by a long-extinct race. At first their desire to fulfill his every need seemed like paradise, but Harry soon realized that precluded him ever leaving the planet. So, sending Norman to capture the U.S.S. Enterprise, Mudd hoped to trade the starship's crew for his own freedom.

The androids, however, want to use the U.S.S. Enterprise as a vehicle to populate the universe, serving mankind and protecting them from themselves. Unwilling to spend their lives on the strange planet, waited on by machines, Kirk and company set about finding a way out. It is not without temptation, however.

Spock is shown what is supposedly the control center for all the androids ... a veritable electronics dream come true. McCoy is given an extensive lab, set up to do all the research he's ever wanted to do, while Scotty is shown the technical machine shop of his dreams. The androids offer Uhura eternal youth and beauty while Chekov contemplates a planet filled with beautiful young women.

In the end, however, the crew bands together in an attempt to thoroughly confuse and, ultimately, short-circuit them. Through a series of illogical and very funny antics, the U.S.S. Enterprise crew and Mudd cause Norman, the central control for all the androids, to have an electronic "nervous breakdown."

Instead of granting Harry Mudd his freedom, Kirk leaves him on the planet with the remaining androids ... including many fashioned in the image of his shrewish wife, Stella, until he mends his ways.

Review
Up to this point, there were a number of 'guest stars' that would have been welcomed for a second episode. One wonders why the character of Mudd had to the be one the producers decided upon. Oh well, they did and we're treated to a painfully silly and childish episode about a colony of androids that are hell-bent on taking over the galaxy in order to protect man...

Why must every conflict have to focus on a species trying to dominate the galaxy? I get the analogy, especially considering the war-torn sixties that Star Trek was made and modeled after, but enough is enough.

Mudd is a likeable character for the most part, but this episode - and the horrible acting of the androids - just pains me no end. Can you imagine if Brent Spiner had taken his android-acting queues from this group? TNG would have been off the air before the first season ended.

Ok - I'm being harsh. No, wait, I'm not. Just a bad episode and an unfortunate sign of things to come.

|Back| -- |Home|
---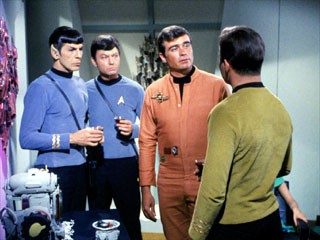 Series: Star Trek: The Original Series - (1966-1969)
Season: 2
Episode #: 31
Original Airdate: 11/10/1967

Writer(s): Gene L. Coon
Director(s): Ralph Senensky

Guest Stars
Majel Barrett as Companion's Voice
Glenn Corbett as Zefram Cochrane
Elinor Donahue as Nancy Hedford

Stardate: 3219.8

Synopsis
Assistant Federation Commissioner Nancy Hedford has become ill while trying to stop a war on Epsilon Canaris III. The shuttlecraft Galileo is assigned to take her to the U.S.S. Enterprise, where she will receive treatment for the otherwise fatal Sakuro's disease.

En route, the shuttlecraft is pulled off course by a mysterious, cloud-like entity. Deposited safely on the planet Gamma Canaris N, Kirk and his party meet Zefram Cochrane, the scientist that discovered warp drive over 100 years before. But Cochrane appears young and vital, despite his age. The cloud-like creature, whom Cochrane calls the "Companion," has kept him young and handsome over the years. The Companion captured the Galileo in order to give Cochrane human companionship.

The Companion prevents Spock from repairing the disabled shuttlecraft and Kirk is worried that Nancy Hedford will die before they can get her to the U.S.S. Enterprise for treatment.

By using a translating device, Kirk discovers that the cloud entity has a female personality and is in love with Cochrane, who doesn't care for that idea at all. He's fallen in love with Nancy Hedford and agrees to help destroy the cloud creature so that they can save Nancy's life. When that attempt fails, the cloud creature enters Nancy's body, saving her life, healing her. In this way, the Companion can know human love with Cochrane and Nancy Hedford's life can be saved. With the Companion no longer holding him on the planet, Cochrane is free to leave, but decides to remain with what is now Nancy/Companion. As the landing party departs, Cochrane and his new mate contemplate children and a normal life span.

Review
The second season gets back on track with an interesting love-story episode that introduces the famed Zeframe Cochrane; the inventor of the warp drive. While the episode is hurt a little by the over acting of Elinor Donahue as Commissioner Hedford, as well as the stale acting of Glenn Corbett as Cochrane, you do get a sense that a genuine bond is forming between their two respective characters.

It would have been interesting to see how the Companion reacted, perhaps in a fit of jealousy, had that relationship formed sooner in the episode, but Star Trek excels at the 'What if?" scenario.

But what if's and poor acting aside, "Metamorphosis" tells an interesting story of sacrifice, love and the perils of immortality. A simple story, really, but one well told.

|Back| -- |Home|
---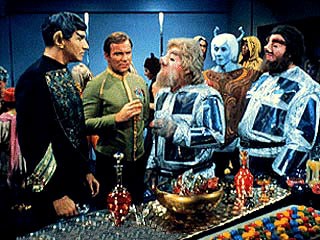 Series: Star Trek: The Original Series - (1966-1969)
Season: 2
Episode #: 44
Original Airdate: 11/17/1967

Writer(s): D.C. Fontana
Director(s): Joseph Pevney

Guest Stars
Jane Wyatt as Amanda
Mark Lenard as Sarek
William O'Connell as Thelev
Majel Barrett as Christine Chapel
John Wheeler as Gav
James X. Mitchell as Lt. Josephs
Reggie Nalder as Shras

Stardate: 3842.3

Synopsis
The U.S.S. Enterprise is appointed to transport ambassadors from many worlds to the Babel Conferences. Among those aboard are Ambassador Sarek of Vulcan and his human wife, Amanda - Spock's parents.

Keeping peace aboard his ship is complicated for Kirk by an unidentified vessel following the U.S.S. Enterprise and high tensions running among delegates on board. At a cocktail party, Ambassador Gav, a Tellarite, quarrels openly with Sarek about the admission of Coridan into the Federation. When Gav is later murdered, circumstantial evidence points to Sarek. The strain of such an accusation causes Sarek's already existing heart condition to worsen and he has the Vulcan equivalent of a heart attack. McCoy battles with less familiar Vulcan physiology to try and correct the damage. Spock is needed as a blood donor for the operation.

When Kirk is attacked by Thelev, an Andorian, Spock assumes command of the Enterprise, and refuses to participate in McCoy's operation on his father. The Vulcan insists that they identify and stop the vessel that is following them. Kirk fakes recovery and returns to the bridge, freeing Spock to go to the sickbay and assist in his father's surgery. On the bridge, Kirk must deal with the unknown ship, now in contact with someone on board the U.S.S. Enterprise. A search uncovers the fact that Thelev is not Andorian, but a surgically altered Orion, put on board to disrupt the Babel Conference.

The unknown ship attacks the U.S.S. Enterprise and is defeated. Rather than be captured, it destroys itself and Thelev commits suicide. With Spock available for the blood transfusion, Sarek's operation is a success and he recovers. Father and son make peace, realizing they have a common bond that transcends their differences. Kirk returns to sickbay for treatment of the knife wound caused by Thelev and McCoy gets the last word.

Review
Two recurring characters in the Star Trek Universe are introduced in this episode. None other than Spock's parents; Sarek of Vulcan and his human wife, Amanda. And while the premise of the episode seems to focus on the ambassadors on board, and the mystery behind the murder of the Tellerite dignitary, the real story lies in the bitter battle between Spock and Sarek.

As logical and poised as Vulcans have been reported to be, it's interesting and a little humbling to see Spock and Sarek carry on so, with such a human stubbornness. In the end it takes dire need of Sarek and requirement of Spock, with a slap of the face thrown in by Amanda, to get them both to realize what they mean to one another.

This is a fun, entertaining episode to watch and witness, with a large collection of extras and guest stars - not the norm during the second season.

I've always considered Mark Lenard's portrayal of Sarek, or more to the point a Vulcan, as spot on. Next to Nimoy, there's never been a better Vulcan performance on any incarnation of Trek, although Tim Russ as Tuvok certainly did an admirably job.

|Back| -- |Home|
---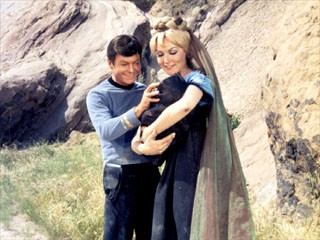 Series: Star Trek: The Original Series - (1966-1969)
Season: 2
Episode #: 32
Original Airdate: 12/1/1967

Writer(s): D.C. Fontana
Director(s): Joseph Pevney

Guest Stars
Julie Newmar as Eleen
Tige Andrews as Kras
Michael Dante as Maab
Cal Bolder as Keel
Ben Gage as Akaar

Stardate: 3497.2

Synopsis
Sent to the planet Capella IV to negotiate a mining treaty, Kirk and a party beam to the surface. They find the Capellans to be warlike and tradition-bound people. Kirk also finds that a Klingon agent, Kras, has gotten there before them and established an agreement with some of the planet's rebels who kill their leader, Akaar, and take over. Akaar's widow, Eleen, is willing to forfeit her life, as custom demands, because she carries the child that will be the next leader, or Teer.

Kirk convinces her to escape and they hide in the hills beyond the city. While the landing party evades pursuit, a Klingon warbird prevents the U.S.S. Enterprise from helping its people.

When Eleen goes into labor, McCoy delivers the child. Eleen, however, hits the doctor over the head with a rock, knocking him out, and returns to the Capellans. She tells them that the landing party and the child are dead. The Klingon decides this is the time to take control and begins to attack the Capellans.

Arriving on the scene, Kirk and Spock try to use primitive bows and arrows on the Klingons which wound, but do not stop. Maab, the new Teer, draws the Klingon fire while his lieutenant kills him. Eleen names her son Leonard James Akaar, after Kirk and McCoy, and as her son's regent until he comes of age, signs the mining treaty with the Federation.

Review
"I'm a doctor, not an escalator!" A classic line, indeed. It's not the first of the "I'm a doctor, not a..." lines from Trek but, for me, it's the most memorable. "Friday's Child" has an interesting story line but ultimately suffers from two problems.

First, the pacing of the episode is a bit slow and tedious. Not so much boring, but more 'ho hummish'

Second, I was always struck by how backwards the Capellans seemed to be and wondered why the Federation (or Klingons) would really want to go out of their way to set up a treaty. Yes, yes, I know they were looking to mine the planet for resources, but they seem to bend over backwards to a tribe of people barely more advanced that humans from the 18th century.

Maybe it's me. Still, "Friday's Child" poses some interesting plots and sub-plots that more or less work in this largely forgettable episode.

|Back| -- |Home|
---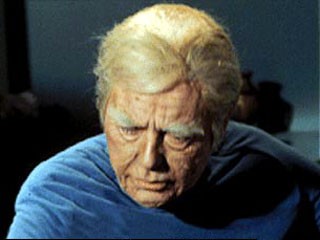 Series: Star Trek: The Original Series - (1966-1969)
Season: 2
Episode #: 40
Original Airdate: 12/8/1967

Writer(s): David P. Harmon
Director(s): Joseph Pevney

Guest Stars
Charles Drake as Commodore Stocker
Sarah Marshall as Dr. Janet Wallace
Majel Barrett as Christine Chapel
Felix Locher as Robert Johnson
Carolyn Nelson as Yeoman Atkins
Laura Wood as Elaine Johnson
Beverly Washburn as Arlene Galway

Stardate: 3478.2

Synopsis
On the way to Starbase 10, the U.S.S. Enterprise stops to deliver supplies to the colonists of Gamma Hydra IV. A landing party consisting of Kirk, Spock, McCoy, Scott, Lieutenant Galway and Chekov beam to the planet's surface. They find that accelerated aging has taken place, killing most of the colonists. Chekov is terrified when he discovers the first body. The only survivors, an elderly couple who claim to be in their twenties, die shortly after meeting the Enterprise crew. When the landing party returns to the Enterprise, the aging acceleration begins to affect each of them - except Chekov, who remains curiously immune. While Kirk wants to stay in orbit around Gamma Hydra IV until a cure can be found, one of his passengers, Commodore Stocker, wants to proceed to Starbase 10 where he feels the best medical aid can be obtained.

The senior officers succumb to the effects of old age and soon Kirk is unable to command, as are Scotty and Spock. Command falls to Commodore Stocker, who, while an efficient desk officer, has no deep space training. Thinking he will save time, Stocker plots a course through the Romulan Neutral Zone on his way to Starbase 10. The Romulans are waiting and begin an attack.

Stocker, panicked and inexperienced, has no idea what to do. As the Enterprise is surrounded, McCoy comes up with an antidote to the aging sickness ... adrenaline. Chekov, he explains, wasn't affected because his fear at finding the bodies on Gamma Hydra IV had already kicked his natural adrenaline into high gear.

McCoy restores Kirk to normal in time to save the ship by reusing his famous "corbomite" bluff and telling the Romulans that the Enterprise would destroy anything within a 200,000 kilometer radius. McCoy distributes the antidote and restores everyone to their normal state.

Review
"The Deadly Years" has always been one of my favorite episodes for a silly reason; the re-introduction of the Corbomite Bluff. In the days when TOS was the only Star Trek in town, it was great to see references to past episodes being made, especially since they were so very rare.

So when a late second-season episode references a ploy used in one of the first episodes ever produced, it gave me a warm and fuzzy feeling since that indicated to me that someone recognized the importance of continuity - a series requirement that some later day Trek series seems to have forgotten.

Outside of that, the acting, the drama and the makeup all help deliver the punch of this episode. And the total ineptitude of Commodore Stocker (perfectly named, too...) works perfectly into the overall story line.

And while we have to suspend reality for part of the episode, especially the reversing of the accelerated aging process (instead of simply stopping the aging process) it's a mere nit pick in an otherwise entertaining episode.

|Back| -- |Home|
---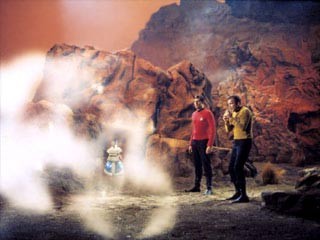 Series: Star Trek: The Original Series - (1966-1969)
Season: 2
Episode #: 47
Original Airdate: 12/15/1967

Writer(s): Art Wallace
Director(s): Ralph Senensky

Guest Stars
Stephen Brooks as Ensign Garrovick
Jerry Ayres as Ensign Rizzo
Majel Barrett as Christine Chapel

Stardate: 3619.2

Synopsis
Eleven years ago, the U.S.S. Farragut encountered a deadly cloud creature with vampire-like tendencies. James T. Kirk was on board the Farragut at that time as they entered the region of Tycho IV. The creature killed the ship's commander, Captain Garrovick, and half the crew by draining their red blood cells. To this day, Kirk feels guilt at having hesitated before firing at the creature - even though his phaser blast had no effect.

On his way to deliver necessary medical supplies, Kirk encounters what he believes is the same blood-sucking entity. He pursues it, against orders, determined to destroy it before it kills again.

A landing party beams down to the surface of Argus X, where the creature has taken refuge. In the party is the son of Kirk's former captain ... Ensign Garrovick. Garrovick spies the creature and, like Kirk 11 years before, hesitates before firing. The creature escapes and Kirk blames Garrovick for the resulting death of a crewman.

The creature leaves the planet with the U.S.S. Enterprise in pursuit. When Kirk fires on it, the creature turns and enters the starship. Fortunately, its first victim is Spock and, after tasting his copper-based Vulcan blood, flees toward its home world, Tycho IV. Fearing the creature will reproduce and, at the very least, kill others, Kirk and Garrovick prepare a trap with a matter/antimatter bomb and human blood. They lure the creature to take the bait and beam aboard the Enterprise as the creature is killed in the resulting explosion.

Review
Where the earlier second-season episode "The Doomsday Machine" dealt with obsessive behavior fueled by the guilt felt by Commodore Decker at the lost of his crew, "Obsession" takes a pretty similar approach with Kirk. Kirk, for over a decade, has felt regret at his apparent inaction when faced with the cloud creature attacking his then-captain.

Now, years later, with the opportunity to makes amends, he lets nothing stand in his way to end the conflict and danger to the galaxy that began those many years ago. The timing and pacing of this episode is fast paced and exciting. The story line is believable. But what makes this episode different from "Doomsday" is the ultimate realization by Kirk that he is obsessed. It's also great story writing to see how Kirk recognizes that his inaction 11 years ago would have made no difference to the ultimate outcome of that encounter.

In the end, Kirk's controlled obsession helps to destroy a life form about to spawn - but a life form that was deemed dangerous enough to destroy. So much for seeking out new life, eh?

This just points out that sometimes, death to a creature - or a species - is ultimately better.

|Back| -- |Home|
---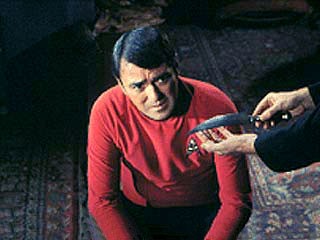 Series: Star Trek: The Original Series - (1966-1969)
Season: 2
Episode #: 36
Original Airdate: 12/22/1967

Writer(s): Robert Bloch
Director(s): Joseph Pevney

Guest Stars
John Fiedler as Mr. Hengist
Charles Macaulay as Jarvis
Pilar Seurat as Sybo
Charles Dierkop as Morla
Joseph Bernard as Tark
Tania Lemani as Kara
John Winston as Transporter Chief
Virginia Aldridge as Lt. Karen Tracy
Judy McConnell as Yeoman Tankris
Judi Sherven as Nurse
John Winston as Lt. Kyle

Stardate: 3614.9

Synopsis
Kirk and McCoy decide to take Scotty, who is recovering from a head wound accidentally caused by a female crew member, to a nightclub on the planet Argelius II. Scotty becomes infatuated with a lovely dancer at the club and they leave together. In the meantime, Kirk and McCoy decide to sample some of the planet's other pleasures and leave.

A scream sends them to a foggy alley to find the dancer dead with Scotty holding a bloody knife. McCoy suggests that perhaps Scotty's subconscious distrust of women since his accident has manifested itself in murder.

Hengist, the local authority, wants to arrest Scotty, but Kirk intervenes and seeks the help of a priestess of an old psionic cult. Unfortunately, she's killed and once more the blame seems to fall at Scotty's feet. Before she dies, the priestess says that something with an insatiable hunger and hatred of women is present in the room. Scotty still claims to have amnesia during the time when the women were killed.

In the end, the entity turns out to be an ancient life form, Redjac, previously known on Earth as Jack the Ripper. It now appears in true form: a noncorporeal vampire who thrives on others' fear. It preys on women because they are more easily frightened. It has been living in the body of Hengist and, when discovered, kills Hengist and flees to the U.S.S. Enterprise.

McCoy administers tranquilizers to everyone on board so that the creature cannot evoke fear. Enraged, it is forced to return to Hengist's body. Kirk, knowing this would happen, beams it into space at maximum dispersal, where it will die for lack of nourishment.

Review
Scotty a murderer? If that isn't a great story line for an episode, I don't know what is. "Wolf in the Fold" provides a tantalizing murder mystery with all evidence seemingly pointing to the beloved Enterprise engineer. But as overwhelming as the evidence seems to be, the real twist lies in the killer's true identity.

Unlike "Amok Time" or "The Enterprise Incident" where you think that Kirk just might actually be dead, somehow we all know that someone - or something - else is behind the murders as it just isn't in Scotty's nature to commit such a heinous crime. At least, we hope.

So when the realization that the true murder is actually an entity who was also responsible for serial killings across the galaxy and across time, including Earth's Jack the Ripper, it just brings all the events and evidence together.

John Fiedler's portrayal of Mr. Hengist is spot on (Not bad, Piglet) and his transformation into the murdering entity is a treat to behold. This was a great combination of a murder mystery with a sci-fi twist. A great Trek episode on all accounts.

|Back| -- |Home|
---
The Trouble With Tribbles

Series: Star Trek: The Original Series - (1966-1969)
Season: 2
Episode #: 42
Original Airdate: 12/29/1967

Writer(s): David Gerrold
Director(s): Joseph Pevney

Guest Stars
William Schallert as Nilz Baris
William Campbell as Capt. Koloth
Stanley Adams as Cyrano Jones
Whit Bissell as Mr. Lurry
Michael Pataki as Korax
Ed Reimers as Admiral Fitzpatrick
Charlie Brill as Arne Darvin
Paul Baxley as Ensign Freeman
David L. Ross as Guard
Guy Raymond as Trader/bartender
Eddie Paskey as Security Guard

Stardate: 4523.3

Synopsis
When the U.S.S. Enterprise receives a top-priority order to protect a shipment of quadrotriticale grain on Deep Space Station K-7, Kirk is irritated to be guarding a shipment of "wheat." But the shipment is meant for famine-struck Sherman's Planet, and Klingons are taking shore leave on the space station. Adding to Kirk's irritation is Federation Undersecretary for Agriculture, Nilz Baris, and his pesty assistant, Arne Darvin, who inform Kirk that Starfleet Command is afraid the Klingons may try to steal the grain.

Another problem arises when a space trader, Cyrano Jones, gives Uhura a purring ball of fluff known as a tribble. Charmed by the creature, Uhura takes it back to the Enterprise. However, as McCoy soon learns, tribbles are born pregnant and the more they eat ... and they eat constantly ... the more they multiply. Soon the starship is overrun by the furry creatures.

Kirk soon finds that the bins that were once full of the precious quadrotriticale are now full of dead tribbles. The grain has been poisoned by a Klingon agent disguised as the Undersecretary's assistant, Darvin. His true identity is exposed when Kirk discovers that tribbles don't like Klingons (and vice-versa) and squeak whenever they're in near proximity. The Klingons leave the space station and Scotty rids the Enterprise of the tribbles by beaming them aboard the departing Klingon ship where, as he tells Kirk, " ... they'll be no tribble at all."

Review
One aspect of the original Star Trek that was never truly played up was its humorous side. Nearly every episode had moments of humor thrown in, but it was sometimes used as a release valve to a tense moment in the story. But from the beginning, "The Trouble with Tribbles" has one thing in mind and that's to make a Trek episode chock full of humor while keeping true to the Trek mantra.

From Spock's logical chastising of Chekov's "little joke" to Kirk's absolute annoyance with Nilz Baris to Scotty's barroom brawl over the honor of the Enterprise and to his delivering the Tribbles to the Klingons at the end, "Tribbles" is pure magic from beginning to end.

The casting in this episode is superb and furthers the enjoyment of the episode. Was there anyone better to play the role of Cyrano Jones than the portly Stanley Adams? And who else could have annoyed Kirk so as the perfect casting of William Schallert as Nilz Baris. Even the Klingons work well in this episode, even though its hard for me to get past William Campbell (Trelane) as Captain Koloth.

Regardless, "Tribbles" is an episode not to be taken to seriously. But since that was the point, it clearly works on all levels. No wonder it remains one of the most popular episodes of all time...

|Back| -- |Home|
---
The Gamesters Of Triskelion

Series: Star Trek: The Original Series - (1966-1969)
Season: 2
Episode #: 46
Original Airdate: 1/5/1968

Writer(s): Margaret Armen
Director(s): Gene Nelson

Guest Stars
Joseph Ruskin as Galt
Steve Sandor as Lars
Mickey Morton as Kloog
Jane Ross as Tamoon
Angelique Pettyjohn as Shahna

Stardate: 3211.7

Synopsis
During a routine transport to a planet, Captain Kirk, Lieutenant Uhura and Ensign Chekov are intercepted and abducted by a powerful and distant transporter beam. Arriving, literally, flat on their backs on a planet called Triskelion in the M-24 Alpha star system, the are immediately attacked by beings from several different species, each of them wearing a collar around their necks.

Kirk and his crew mates have been brought to this planet to fight as gladiators in combat games in order to entertain and provide exciting gambling for the disembodied entities called the "Providers." Each assigned a "drill thrall" of their own, Kirk and his companions are collared as well, which asphyxiate those who are disobedient to the Providers.

On board the U.S.S. Enterprise, Spock, aware that the crew members are missing, attempts to locate them, and eventually finds the origin of the beam. Upon its arrival, the crew of the starship is also taken captive by the Providers.

With the ship and his entire crew at stake, Kirk makes a final wager to the Providers which they cannot resist: himself against three drill thralls on the condition that if he wins, all the drill thralls go free and are taught how to live for themselves again. If Kirk fails, he promises himself and the entire crew as the most entertaining fighters they've ever seen.

Kirk beats the three drill thralls and wins the wager, and the Providers set all the thralls free and permit the U.S.S. Enterprise and her crew to leave also.

Review
As thought provoking, cerebral, intelligent and ahead of its time as the original Star Trek was, there was no denying that at times the series put all that aside for some honest-to-goodness ratings-garnering entertainment.

Case in point - Angelique Pettyjohn as Shahna dressed in a tin foil bikini. Yes, Star Trek had its T&A moments without question, but they were usually surrounded by a plausible and interesting story line. Gamesters may be a little light on both items, but it still makes for an entertaining and memorable episode.

Shahna aside, Joseph Ruskin portrayal of Galt comes across sufficiently spooky which really drives this episode. It would have been interesting to learn more about the Providers, but you can only do so much in a 45 minute episode. Besides, Pettyjohn's get-up had to be showcased for all it was worth.

Ultimately, this episode becomes a little to predictable and has always 'felt' like a true 3rd season entry, despite its positioning smack in the middle of season #2.

|Back| -- |Home|
---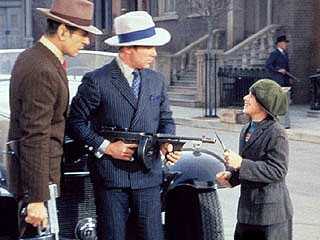 Series: Star Trek: The Original Series - (1966-1969)
Season: 2
Episode #: 49
Original Airdate: 1/12/1968

Writer(s): David P. Harmon
Director(s): James Komack

Guest Stars
Victor Tayback as Jojo Krako
Lee Delano as Kalo
John Harmon as Tepo
Steve Marlo as Zabo
William Blackburn as Lt. Hadley
Jay Jones as Mirt
Anthony Caruso as Bela Oxmyx

Stardate: 4598.0

Synopsis
The planet Sigma Iotia II's last visit by the Federation was by the U.S.S. Horizon - a hundred years before. Realizing the lapse in monitoring the planet, the Federation sends the U.S.S. Enterprise to observe the progress of Iotia's population.

Beaming down to the planet's surface, Kirk, Spock and McCoy are surprised to see a much different society - an Earth-like 1920s gangster culture - than was reported by the U.S.S. Horizon crew. Bodily seized, the landing crew are taken before one of the major planetary leaders, mobster Bela Oxmyx. Wishing to unite the population under his rule, Bela offers Kirk "a piece of the action" in exchange for the technologically advanced weapons of the U.S.S. Enterprise.

Meanwhile, the other lead gangster, Jojo Krako, has his own idea about being the head mobster and captures the Enterprise officers. Struggling to gain the upper hand in this comical power struggle, Kirk creates a diversion ... a little card game known as fizzbin. Without knowing the nuances of the culture, Kirk and Spock try to accomplish their mission when Kirk attempts to drive a car and Spock strives to speak in gangster slang.

Finally, Bela Oxmyx is given a display of the Federation's power when he is beamed aboard the Enterprise and held hostage in the transporter room. Arranging a meeting between the two antagonists, Kirk is successful in uniting the two gangs in a loose system of government with the Federation as Godfather ... for a piece of the action, of course. Furthermore, upon discovering a book - "Chicago Mobs of the Twenties" - the U.S.S. Horizon crew left behind 100 years before, Kirk and Spock finally understand how the highly imitative Iotians reinvented their entire society.

Back aboard the U.S.S. Enterprise, Kirk notices McCoy unusually drawn and worried. When questioned, McCoy is forced to admit that he thinks he left his communicator on Sigma Iotia II, leaving him to wonder what type of planetary society the next Federation visit will find ...

Review
"Right? Check."

With "Tribbles..." being universally accepted as the quintessential comedy episode of the original series, "A Piece of the Action" should be right on its coattails for the top spot. And in this episode, we have some really fine comedic acting and timing from Shatner and Nimoy which blends perfectly with the more serious acting of their supporting gangster cast.

But where "Tribbles..." sub-story about protecting grain for Sherman's planet was weak at best, the main plot in "Action" is a true "Trek" story with "Trek-like" consequences in the end. The notion of a society adopting a philosophy from a left-behind history book of Earth is an intriguing one. And while "Action" takes a more light-hearted approach to reflecting this issue, the message still comes across clearly, especially with the closing scene.

Of special note is the era-specific setting for most of the episode. This was no doubt a throw-back from some earlier Paramount production, but it's always nice to see a large-scaled set utilized in the original tight-budget series.

|Back| -- |Home|
---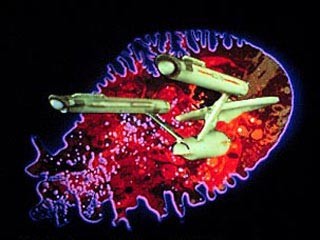 Series: Star Trek: The Original Series - (1966-1969)
Season: 2
Episode #: 48
Original Airdate: 1/19/1968

Writer(s): Robert Sabaroff
Director(s): Joseph Pevney

Guest Stars
John Winston as Lt. Kyle

Stardate: 4307.1

Synopsis
The U.S.S. Enterprise is en route to Starbase 6 for shore leave when Uhura receives a jumbled message from which all she can make out is a sector coordinate and the name U.S.S. Intrepid, a starship manned entirely by Vulcans. Suddenly, Spock shudders with pain and reports that the Intrepid just "died."

Kirk gets orders to head to Sector 39J because all contact has been lost with solar system Gamma 7A and with the Intrepid, which was investigating it. As the Enterprise changes course, long-range sensors show that the solar system, and its billions of people, are dead.

Approaching its destination, the U.S.S. Enterprise encounters a strange dark area in space. Kirk launches a probe. Seconds later, the crew hears a high-pitched whine throughout the ship, rendering half the people on board ill, and causing some to faint. Spock speculates that the phenomenon is some form of energy that is probably responsible for the death of the system inhabitants and the Intrepid crew. Kirk decides to move closer, and the crew hears the whine again. This time when they recover, the stars seem to have vanished. Spock reports that the noise was produced when the Enterprise passed through a boundary layer, and that they are surrounded by a field that is draining their mechanical and biological energy. McCoy confirms this when he reports from sickbay that everyone on the ship is dying.

Attempts by Scotty to recalibrate the engines and break free from the dark zone fail, and in fact the ship's expenditure of energy attracts an enormous amoeba-like creature approximately 18,000 kilometers in length. McCoy identifies the creature as an incredibly simple, single-celled organism which feeds on energy, but he needs more data to save the ship. He and Spock each volunteer to take a shuttle to investigate the creature - what would most certainly be a suicide mission - and Kirk decides to send Spock.

Spock takes the shuttlecraft through the creature's membrane and moves toward its nucleus. He reports that the creature appears to be ready to reproduce. He loses voice contact but manages to continue transmitting data.

Kirk and McCoy determine that if the creature begins to reproduce, it will spread rapidly and pose a serious threat to the galaxy, so it must be destroyed. But the Enterprise only has enough power left to survive for an hour.

Kirk and McCoy realize they have to use the U.S.S. Enterprise as an "antibody." Kirk orders the ship to punch its way into the giant creature and set a course for the nucleus. An antimatter charge is attached to a probe with a seven-minute delay. As soon as it is lodged in the nucleus, the Enterprise backs away at full impulse. There are only a few seconds to spare, but then they detect Spock's shuttle. Kirk locks two tractor beams onto the shuttle, even though doing so delays their escape. But when the antimatter explosion ruptures the creature's membrane, both ships are thrown to safety.

Review
"Immunity Syndrome" is one of those nearly-forgotten episodes that deserves a lot more attention for many reasons.

First, there is a true sense of mystery and adventure from the opening moments when Spock announces the fate of hundreds of Vulcans to the closing scene when Spock's shuttlecraft somehow survives the blast that killed the amoeba-like creature.

Next, as is often the case, comes the acting and true conflict between the characters. This is one of the pinnacle episodes where the love/hate relationship between Spock and McCoy is expertly showcased.

Finally, the special effects of the creature are truly superb for their time.

The pacing of the episode is swift where it needs to be, drawn out where required. The writing and directing were spot on, and "Immunity Syndrome" is about as flawless an episode of the original series as they come. That's not to say that it's the best TOS episode, but simply that it accomplishes what it set out to do in every aspect.

Well done, Mr. Pevney. Well done.

|Back| -- |Home|
---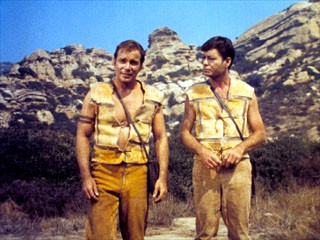 Series: Star Trek: The Original Series - (1966-1969)
Season: 2
Episode #: 45
Original Airdate: 2/2/1968

Writer(s): Gene Roddenberry
Director(s): Marc Daniels

Guest Stars
Michael Whitney as Tyree
Nancy Kovak as Nona
Booker Bradshaw as Dr. M'Benga
Janos Prohaska as Mugatu
Majel Barrett as Christine Chapel

Stardate: 4211.4

Synopsis
Captain Kirk leads a survey mission to a peaceful, primitive planet which he visited 13 years before as a lieutenant. He is dismayed to see a group of villagers armed with flintlocks, weapons they shouldn't have at their current stage of development. The villagers ambush the landing party and wound Spock. Returning to the U.S.S. Enterprise, Spock is put under the care of Dr. M'Benga, who once interned in a Vulcan ward. M'Benga tells McCoy they've done all they can for Spock, and that he has to recover on his own.

Meanwhile, a Klingon vessel is detected in orbit around the planet, and Kirk orders Chekov to keep the Enterprise out of sensor range while he returns to the surface. He'll be looking for Tyree, the tribal leader he befriended years earlier. Minutes after Kirk and McCoy beam down in native clothing, they are attacked by a mugato, a white apelike creature with poisonous fangs, who bites Kirk before McCoy can kill it with a phaser. They can't return to the Enterprise, so Kirk tells McCoy that Tyree's people have a cure for the mugato poison.

Some hill people find Kirk and McCoy and take them to their caves, informing them that Tyree is now their leader, and his wife, Nona, knows how to help Kirk. But Tyree and Nona are currently on a scouting mission. Nona is using drugs to keep Tyree devoted to her, and she urges him to acquire "firesticks" for their people, but being a devoted pacifist, he refuses. Informed about Kirk, Nona heads back to the caves, where she sees McCoy using his phaser to heat some rocks. Nona is intrigued, and wants to know more about their guests. Nona treats Kirk by cutting her hand and pressing a mahko root against Kirk's wound. She collapses but Kirk recovers. Now, according to legend, Kirk will be unable to refuse Nona anything.

Meanwhile, on the Enterprise, Dr. M'Benga has informed Nurse Chapel that Spock is in a state of self-induced hypnosis to heal his own injuries. When Spock's readings fluctuate, M'Benga is pleased, and tells Chapel that if Spock regains consciousness she is to do whatever the Vulcan asks.

Tyree tells Kirk and McCoy that the firesticks first appeared nearly a year ago, but assumes the villagers have been making them - he hasn't seen any strangers. Kirk asks him to take them to the village under cover of dark. Nona joins them and implores Kirk to help make Tyree a powerful man, but the captain says he will not interfere.

Tyree leads Kirk and McCoy into the village, where they find a forge containing clear evidence that Klingons are involved. They watch in hiding as the villager's leader, Apella, enters with a Klingon. Kirk and McCoy overpower them, take a flintlock and escape with Tyree's help.

Spock regains partial consciousness and demands that Chapel strike him. She does so hesitantly at first, but at Spock's insistence she slaps him harder and harder, until Scotty walks in and stops her, not knowing he's endangering Spock by doing this. M'Benga finds out what's happening, rushes over and slaps Spock violently until he is fully conscious. Spock thanks him for bringing him out of his hypnotic state.

On the planet, Kirk teaches Tyree and his people how to fire the stolen flintlock. McCoy points out that he is corrupting the hill people's society, but Kirk replies that the Klingons left them no choice - in order to bring equity back between the hill people and the villagers, he has to provide equal weapons. McCoy is horrified, but has no alternative solution. Realizing Tyree is hesitant to arm his people, Kirk hopes that Nona can convince her husband to fight. When he approaches her, she uses the same drug on him that she used to seduce Tyree. Kirk falls under her spell. Tyree sees what's happening and aims the flintlock at his wife, but he cannot bring himself to shoot. He throws the weapon away in disgust and walks off.

Suddenly, a mugato attacks Kirk and Nona. After a struggle, Kirk is forced to destroy the creature with his phaser. Seeing her opportunity, Nona knocks Kirk out and takes the phaser. Tyree and McCoy find Kirk and revive him, while Nona runs into a patrol of villagers and offers them victory by using Kirk's phaser. But the villagers attack and kill her. Tyree and Kirk rush in and overpower the villagers. When Tyree learns that Nona is dead he takes up the rifle and tells Kirk he needs more weapons. McCoy retrieves Kirk's phaser, and Spock contacts them from the ship. Kirk orders Scotty to manufacture a hundred flintlocks - they are making serpents for the Garden of Eden.

Review
Topical story lines have always been a mainstay of all Star Trek series, and the Original Series was no exception. So with the Vietnam conflict heating up at the tail end of the sixties, Roddenberry penned this episode which acted as an analogy to the war at hand.

The only problem with this approach is the damage is caused to the utopian setting of the Trek universe. For Kirk & company to willingly supply arms to a developing world so they can ward off Klingon arms supplies smacks at what the overall message that Trek presents.

On the flip side, however, "A Private Little War" highlights the inevitability and futility of war. Keeping a balance of power via arms supply will only fuel the war, not cancel it out. That's the message this episode sends and the fact that it doesn't end with the resolution of the conflict drives the importance of the message ever further. Star Trek was never about clean, happy endings despite the fact that many of their episodes ended in the fashion.

There were consequences to the actions taken by Kirk & Company. It's a shame the series didn't extend out several more years where stories could have revisited the gains/losses of those consequences.

|Back| -- |Home|
---

Series: Star Trek: The Original Series - (1966-1969)
Season: 2
Episode #: 51
Original Airdate: 2/9/1968

Writer(s): John Kingsbridge
Director(s): Ralph Senensky

Guest Stars
Diana Muldaur as Dr. Ann Mulhall
Majel Barrett as Christine Chapel

Stardate: 4768.3

Synopsis
The U.S.S. Enterprise tracks a mysterious SOS to an ancient planet presumed long dead. The crew hears a voice from a telepathic being named Sargon, who asks Kirk to beam down to the surface. When Kirk, Spock and McCoy arrive in the transporter room, they find that Dr. Ann Mulhall has also been summoned. Sargon operates the transporter and leaves the security guards behind.

The landing party find themselves in a vault, and encounter a glowing sphere that identifies itself as Sargon. He explains that his people were destroyed in a cataclysmic war half a million years ago, and that he once had a body, but now is only pure thought. Sargon insists that he and two others of his kind need to "borrow" the bodies of the Enterprise officers long enough to construct new artificial ones. Sargon briefly takes control of Kirk's body, and leads the landing party into another chamber holding two rows of spheres, which are all now dark except for two. Those two beings are Sargon's wife, Thalassa, and his former enemy, Henoch. Sargon explains that this is how they stored their minds after the war, laying in wait for someone to find them. But by now Kirk's body is weakening, so Sargon returns control to the captain.

Scotty beams the three receptacles aboard and McCoy monitors the transfer process in Sickbay. Sargon takes Kirk's body, Thalassa takes Mulhall's, and Henoch takes Spock's. They are all overwhelmed by the pleasure of having physical bodies after so many years. Almost immediately, though, Henoch plots to kill Sargon in Kirk's body. While Sargon leads the effort to build androids for them to occupy, Henoch attempts to lure Thalassa into agreeing that they should keep their host bodies.

Henoch telepathically forces Nurse Chapel to poison Sargon (in Kirk's body) and then destroys the globe that houses Spock's mind. McCoy and Nurse Chapel keep Kirk's body on life support, but his mind is still trapped in Sargon's receptacle. Henoch has completed an artificial body for Thalassa, but she refuses to transfer her consciousness into it. Instead, she goes to sickbay and offers McCoy a chance to save Kirk in return for keeping the human body. McCoy refuses, so she attacks him with her thoughts. But then she realizes what she's doing and breaks off her assault. Suddenly, she and McCoy hear Sargon's voice - he transferred his mind into the ship's computer, and he has a plan. Chapel arrives, and Thalassa orders McCoy out of the room. The room shakes, and a few seconds later Chapel walks out. When McCoy rushes back in, he finds Kirk and Mulhall restored to normal, and all the receptacles destroyed. Kirk orders McCoy to prepare a hypo with a deadly injection - Spock's mind is now dead, so now they must destroy Henoch.

By now Henoch has taken control of the Enterprise. On the bridge, McCoy attempts to inject him, but Henoch stops him and orders Nurse Chapel to inject the Doctor. She takes the hypo, but injects Spock's body instead. Henoch tries to move to another body, but Sargon stops him, and he falls to the floor. Chapel staggers, and Spock stands up. It turns out that Spock's consciousness had been transferred into Chapel's body, and that the injection wasn't really deadly - Sargon had manipulated the Doctor to believe it was because Henoch could read McCoy's thoughts.

Sargon and Thalassa realize that they cannot live in the physical world, but before they depart to roam the universe in their noncorporeal state, they inhabit Kirk's and Mulhall's bodies one last time so they can share a kiss.

Review
One of the differences between Star Trek (The Original Series) and many of the later day Trek series can be boiled down to episodic conflicts. In TOS, all story lines had to revolve around a conflict that pitted the crew against potential danger in one form or another. Other series took a more optimistic approach for the most part. I bring this up because had "Return to Tomorrow" been produced during "The Next Generation's" run or perhaps "Voyager," I suspect the outcome would have been different.

By that I mean that this episode could have easily ignored the Henoch conflict and focused on truly transferring the thoughts of Sargon and Thalassa into new bodies where they could continue their lives and perhaps become integral members of the Federation. After all, they've been around for 500,000 years. Think of what they could teach the members of the Federation.

Now this proposed direction doesn't negate the impact of this episode. It's rather well done with more impressive acting by both Shatner and Nimoy, especially when they take on the personas of Sargon and Henoch respectively. And the love revealed and nicely reflected upon between Sargon and Thalassa; a love that has lasted half a million years; is touching and sweet.

But I see this episode and always wonder "What if?" Ah well, that's just me...

|Back| -- |Home|
---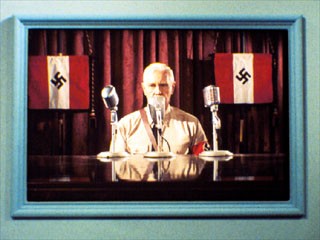 Series: Star Trek: The Original Series - (1966-1969)
Season: 2
Episode #: 52
Original Airdate: 2/16/1968

Writer(s): John Meredyth Lucas
Director(s): Vincent McEveety

Guest Stars
David Brian as John Gill
Skip Homeier as Melakon
Richard Evans as Isak
Valora Norland as Daras
William Wintersole as Abrom

Stardate: 2534.0

Synopsis
The U.S.S. Enterprise is sent to planet Ekos to investigate the disappearance of an old Academy professor of Kirk's - historian John Gill. The Enterprise is attacked by an armed probe with a thermonuclear warhead, technology that is too advanced to be from Ekos or the nearby Zeon. Captain Kirk destroys the probe before it can do any damage, then takes the ship into orbit around Ekos out of range of the planet's detection devices. Spock tells him that, according to their records, the Ekosians are primitive, warlike people in a state of anarchy; Zeon has a relatively high level of technology, and its people are peaceful.

Kirk decides to beam down to Ekos with Spock; and Dr. McCoy fits them both with subcutaneous transponders. Scotty is ordered to use the transponders to locate and beam them back if they fail to make contact in three hours. When Kirk and Spock arrive on the planet's surface, a Zeon man urges them to hide. They watch as the man is arrested by officers wearing swastika armbands. Spock reminds Kirk that the Prime Directive prohibits them from interfering.

A viewscreen in the street plays news footage revealing that Ekos has adopted a military regime similar to that of Nazi Germany, and is now at war with Zeon. Kirk is puzzled that another planet could independently develop a culture identical to one that once existed on Earth. They watch a female Nazi officer called Daras receive a medal of honor, and learn that the planet is committed to the death of Zeon. The broadcast ends with a salute to the Führer - John Gill.

Kirk and Spock steal uniforms and assume the identities of Nazi officers in order to infiltrate government headquarters, but they are arrested before they can find Gill. Their phasers and communicators are confiscated, and they are tortured and interrogated. In jail they meet Isak, the man they saw being arrested earlier. Isak tells them that the Nazi movement on Ekos began when Gill arrived a few years earlier, and it is only a matter of time before Ekos invades Zeon.

Spock uses his subcutaneous transponder to make a crude laser that cuts open the cell door. They find their communicators in pieces, but Spock takes one and they escape. Isak takes Kirk and Spock to an underground resistance group led by his brother Abrom. Kirk explains to Abrom that he needs to find John Gill in order to end the war. But then the resistance cell is infiltrated by Daras, the high-ranking Nazi woman seen in the newsreel, who shoots Abrom. Kirk and Spock overpower and disarm her, but then they learn Daras is really a member of the underground, and the shooting was a ruse to test their loyalty. Isak and Daras explain that Deputy Führer Melakon is the one in command. Gill sees no one, but he is making a speech from the Chancellery. Daras agrees to help Kirk, Spock and Isak get past the guards. They dress as members of a Gestapo film crew and make their way into the headquarters. Isak wants Kirk and Spock to kill Gill as soon as possible, but Kirk refuses.

They find Gill in a booth surrounded by guards. Spock observes that he seems to be ill, or perhaps drugged. When Spock contacts the Enterprise with a repaired communicator, Kirk tells McCoy to put on a Nazi uniform and beam down. Watching Gill make his speech, McCoy confirms that he has been heavily drugged. Kirk, Spock and Isak overpower the guards so that McCoy can administer a stimulant to Gill, but he fails to revive him. Spock performs a mind probe on Gill, which brings him to consciousness. Gill tells them he used the example of Nazi Germany to bring order to Ekos. It worked at first, but then Melakon seized control, drugged Gill to use him as a figurehead, and started the war with Zeon. With another, potentially fatal dose of stimulant, Kirk keeps Gill conscious so he can make another broadcast from the booth. Gill announces that he has recalled the fleet and that the war must stop; he also tells the people that Melakon is a traitor. Melakon opens fire on the booth, and Isak shoots him. Gill is fatally wounded, but before he dies, he tells Kirk he was wrong to break the Prime Directive. But now he hopes the damage has been undone, and the Ekosians and Zeons will now work together.

Review
In many ways similar to "A Piece of the Action" with far more serious consequences, "Patterns of Force" takes a hard look at Fascism and the Nazi reign of terror of just two decades prior, to push the message of "Absolute power corrupts absolutely" across loudly and clearly.

As is often the case when Trek takes a topical, albeit dated, approach to an episode, the story writing is superb, the acting believable and the sets, costumes and overall production is first rate.

To that point, it always gives me a (bad) shiver to see Kirk/Spock dressed in a Gestapo get up. And witnessing the expertly evil performance of Skip Homeier as Melakon; the true dictator; is fun and humbling to behold.

"Patterns..." looks to send a message as well as remind those of what the world went through in the 40's. It succeeds on both fronts and is truly a solid original series episode.

|Back| -- |Home|
---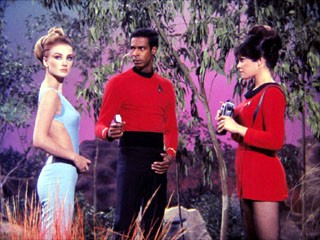 Series: Star Trek: The Original Series - (1966-1969)
Season: 2
Episode #: 50
Original Airdate: 2/23/1968

Writer(s): D.C. Fontana & Jerome Bixby
Director(s): Marc Daniels

Guest Stars
Warren Stevens as Rojan
Barbara Bouchet as Kelinda
Stewart Moss as Hanar
Lizlie Dalton as Drea
Robert Fortier as Tomar

Stardate: 4657.5

Synopsis
When the U.S.S. Enterprise answers a distress call from a small planet, the landing party is captured by a group of agents from the Kelvan empire, located in the distant Andromeda galaxy. The Kelvans' purpose is to find planets suitable for colonization. However, their own ship was destroyed and now they need the Enterprise to make the 300-year journey home. To utilize the starship, the Kelvans - huge, tentacled creatures - take on human form. After several attempts at escape, Kirk accepts his fate and agrees to let the aliens take over his ship. The Kelvans use their technology to transform all but essential Enterprise personnel into small "cubes" which, unless broken or damaged, can be restored to human beings.

Recognizing that the Kelvans, in their new human bodies, are discovering human sensation and emotion, the remaining crew attempts to foster dissent amongst the aliens: Scotty succeeds in gettting one of them drunk, McCoy injects an irritant into another, and Kirk makes romantic overtures to the Kelvan leader's woman. With the Kelvans thus distracted, Kirk and the crew are able to regain control of the ship.

Kirk points out to Rojan, the Kelvan leader, that the Kelvans are already becoming less like they were before by encountering the humans. In 300 years, their descendants will be so human-like that they won't be able to live among their people on Kelva. Rojan sees the logic in his argument and sends a robot probe to Kelva, reporting what has happened. Pledging to restore the Enterprise crew, Rojan accepts Kirk's offer that the Enterprise find the Kelvans a Class-M planet to colonize.

Review
So close, and yet so far. That's what I always think when watching "By Any Other Name." This episode introduces, for the first time, inter-galactic beings, specifically from the Andromeda Galaxy. The story of how they traveled for generations to reach the Milky Way only to lose their ship when crossing over the galactic barrier is believable and firmly holds the continuity of the Trek universe in place (See: "Where No Man Has Gone Before" for the initial reference to the galactic barrier".

And the 'explanation' of how they are actually different beings that have taken human form, while overused, it a satisfactory one. But, alas, what could have been an episode of truly new life and new civilization discovery turns into another over done conflict of conquest.

Fine - the Kelvans are conquerors, so indicates Rojan. But if that were truly the case, I highly doubt that they would have so easily accepted 'friendship' when facing defeat in the end.

If they were explorers, seeking new life like the valiant crew of the Enterprise, this episode could have been the forefront of new adventures - outside our galaxy.

But labeled as conquerors turned friends, and never touched upon again, the Kelvans and this episode ultimately become forgettable. The only lasting impression comes from Ms. Bouchet.

|Back| -- |Home|
---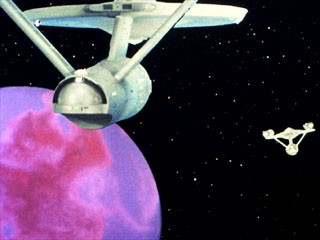 Series: Star Trek: The Original Series - (1966-1969)
Season: 2
Episode #: 54
Original Airdate: 3/1/1968

Writer(s): Gene Roddenberry
Director(s): Vincent McEveety

Guest Stars
Morgan Woodward as Capt. Ronald Tracey
Roy Jenson as Cloud William
Irene Kelly as Sirah
Morgan Farley as Yang Scholar
David L. Ross as Lt. Galloway
Lloyd Kino as Wu
Ed McCready as Dr. Carter
Frank Atienza as Kohm Villager
Eddie Paskey as Mr. Leslie

Stardate: Unknown

Synopsis
The U.S.S. Enterprise finds a crewless starship, the U.S.S. Exeter, in orbit around the planet Omega IV. The boarding party from the U.S.S. Enterprise contracts a virus that may have killed the Exeter's crew, but the biosphere on Omega IV is found to contain an immunity. The party is beamed to the surface.

There they discover Captain Tracey, the commander of the U.S.S. Exeter. He has been violating the Federation's Prime Directive by interfering in the politics of the natives, using his phaser to protect the asian-like villagers, the Kohms, against the barbarian raiders, the Yangs. Tracey demands that Kirk supply him with more phasers, which Kirk refuses to do.

The Yangs capture the Kohms village and the U.S.S. Enterprise crew learns that these people are possibly descendants of Earth's Communist Chinese who left Earth in the last years of the 20th Century. The Yangs mouth a distorted version of the United States Constitution, which are their 'holy words' and which Kirk recites, gaining their confidence. Prolonged exposure to the planet's atmosphere cures the landing party and, with Captain Tracey under arrest, they return to the U.S.S. Enterprise.

Review
Parallels to Earth are a recurring theme in the Original Series. Witness "Miri" with the planet that geographically resembles Earth, or "Patterns of Force" that mirrors Germany and the Nazis, or ever "A Piece of the Action" where Chicago-style mobsters run the planet.

With the exception of "Miri" where the Earth-parallel is never explained, these Earth-identity episodes have decent, albeit far-reaching explanations for their link to 'old Earth' and the "Omega Glory", if you listen carefully enough, is almost no exception.

Essentially a remake of a US/Communism conflict on a far-off planet, "Omega" tries to be topical for the then cold-war period, but fails on many fronts.

Ok, so the "Yangs" are likely descendants from 20th century humans and the "Kohms" are possibly linked to Communist Chinese travelers, it's still a bit of a stretch that these two 'warring' factions would have had the resources to leave Earth in the late 20th century (when the Eugenics Wars was in full swing) and to both settled on the same planet together.

Further, for all their technological abilities to GET to the planet, both 'sides' somehow lost all of those skills in the 200 years since and reverted back to a 19th century Earth-like civilizations.

All the while becoming nearly immortal. This episode, despite its patriotic ending (if you can call it that) is really a jumbled mess of clichés and unexplained events. Frankly, it gives me a headache.

But heck, that's me.

|Back| -- |Home|
---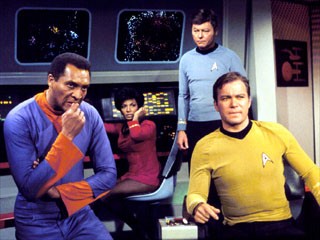 Series: Star Trek: The Original Series - (1966-1969)
Season: 2
Episode #: 53
Original Airdate: 3/8/1968

Writer(s): D.C. Fontana
Director(s): John Meredyth Lucas

Guest Stars
William Marshall as Dr. Richard Daystrom
Barry Russo as Commodore Robert Wesley

Stardate: 4729.4

Synopsis
The U.S.S. Enterprise is chosen to be the test ship for the new M-5 multitronic computer system, a computer meant to be able to run a starship without human intervention. Also aboard for the test is Dr. Richard Daystrom, the inventor of the M-5 and an obsessive and unstable individual.

Initially the M-5 performs well, but when it decides to destroy a robot freighter, Kirk orders the test canceled. The M-5, however, protects itself and makes it impossible for it to be disconnected. The computer becomes increasingly erratic, a result of Dr. Daystrom's decision to impress his engram onto the computer as part of its programming. Starting a scheduled war games drill, M-5 uses the full arsenal of the U.S.S. Enterprise to attack four other Federation starships.

In a last-ditch appeal to the M-5, Kirk makes the computer realize that it has committed the sin of murder. Since Dr. Daystrom would be ethically abhorred at such an act, the M-5 is equally penitent and tries to commit suicide by leaving the U.S.S. Enterprise defenseless against a counter-attack by the remaining other starships. At the last moment, Spock and Scott are able to finish disconnecting the M-5 unit. Kirk keeps the shields down, gambling successfully that the attacking ships would not fire on an undefended vessel. Restoring communications next, the fleet is called off.

Review
Without question, "The Ultimate Computer" is one of the finest episodes of the Original Series, period. Humanity versus the Machine - what a great setting for a Star Trek episode where the very nature of the show is to expand the human condition with the exploration of the galaxy.

But let's face it. What could have been a ho-hum episode with some nice special effects and war games excitement turns into a powerhouse episode for one single reason: the performance by William Marshall as Dr. Richard Daystrom. As I've mentioned before, all of the Star Trek series have had a plethora of incredible guest star appearances and performances, and Mr. Marshall is among the best.

I never tire of watching his slow transformation from a genius with a new "pet" to a nearly crazed "parent" defending a murdering child. The transformation is so subtle at first that it can almost be dismissed. But then it hits you before you realize that it's too late, and Daystrom and the M5 have to be destroyed.

Great writing. Incredible acting. Perfect pacing. And a believable and relatable story. Truly a gem from the sophomore season of Star Trek.

|Back| -- |Home|
---

Series: Star Trek: The Original Series - (1966-1969)
Season: 2
Episode #: 43
Original Airdate: 3/15/1968

Writer(s): Gene Roddenberry & Gene L. Coon
Director(s): Ralph Senensky

Guest Stars
Lois Jewell as Drusilla
Logan Ramsey as Claudius Marcus
Rhodes Reason as Flavius
William Smithers as Capt. R.M. Merik

Stardate: 4040.7

Synopsis
The U.S.S. Enterprise finds the wreckage of the S.S. Beagle, with no survivors, orbiting near the Planet 892-IV. When Kirk, Spock, and McCoy beam to the planet's surface, they find a dishelveled group of "sun worshipers" trying to escape being caught by the local authorities. They are captured, along with the landing party, and taken to the city which looks very much like Earth's ancient Rome.

They find that Captain R.M. Merrick of the Beagle has betrayed his crew, beaming them down to fight in the Roman-like gladiatorial games. Merik is First Citizen of the Empire and supposed close friend to the Proconsul, Claudius Marcus. Kirk realizes, however, that Merrick is being used as a lure to get more starship crews to 892-IV for the entertainment of its inhabitants.

When Kirk refuses to beam his crew down to die in the arena, Spock and McCoy are condemned to fight gladiators in the ring. The bout is being televised for the planet's enjoyment, but Scotty cuts off the planet's energy supply, spoiling their pleasure. When Kirk uses the confusion to free Spock and McCoy, Merrick sees how a true starship captain acts in the face of danger and uses his communicator to have Kirk, Spock and McCoy beamed aboard the U.S.S. Enterprise. For his treachery, Merrick is killed by the Proconsul.

Uhura, who has been monitoring the radio waves of the planet, realizes that the "sun worshipers" aren't talking about the sun in the sky, but of the "Son of God."

Review
The Roman Empire - arguably one of the most dominating, fascinating and popular dynasties in all of Earth's sordid history. Infamous for its success. More so for its fall. So what IF Rome never fell? What would present day Earth be like had the Empire persevered?

Enter "Bread and Circuses" where yet another Earth-paralleling world had its own version (very similar in fact) of the Roman Empire, except their empire never did fall.

An interesting idea if nothing else, but the concept gets a little cluttered with the notion of the slaves seeking freedom, and the worship of the Son of God. Not that either of these concepts are without merit, but it seems that, once again, there's a lot going on with this world, and none of those stories lines are properly addressed. Focus on the Roman Empire, or focus on the slave issue. Heck, even focus of the worship of Jesus... But to tackle all three in 45 minutes is simply asking to much.

The episode is not without merit. It's fun to watch, exciting at times, but ultimately too similar to other "Earth Parallel" episodes, most notably "Patterns of Force".

|Back| -- |Home|
---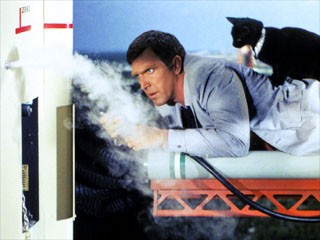 Series: Star Trek: The Original Series - (1966-1969)
Season: 2
Episode #: 55
Original Airdate: 3/29/1968

Writer(s): Art Wallace
Director(s): Marc Daniels

Guest Stars
Robert Lansing as Gary Seven
Teri Garr as Roberta Lincoln

Stardate: Unknown

Synopsis
Sent back in time to find out how Earth managed to survive without destroying itself, the U.S.S. Enterprise inadvertently beams aboard a space traveler, Gary Seven, along with his black cat, Isis. Seven claims to be a 20th-century human raised and trained by unknown and unnamed aliens to prevent Earth from destroying itself. Before Kirk can determine whether or not the man is telling the truth, Seven escapes to the planet below. Kirk and Spock follow him to Earth. Meanwhile, Seven has tried to contact two fellow agents, who are discovered to have recently died in an auto accident. Instead, he contacts Roberta Lincoln, who becomes his reluctant cohort.

An orbital bomb is about to be launched by the United States and it is Seven's mission to make sure the rocket explodes somewhere over Asia, thereby frightening the governments into not launching future bombs into space.

When the rocket goes out of control, Seven barely succeeds in stopping it, despite Kirk and Spock's well-meaning interference. Before Kirk and Spock leave Earth, Kirk consults the Enterprise's computer records and informs Seven and Roberta that they have a very interesting future in the offing.

Review
Most of us know the story about how "Assignment: Earth" was really a vehicle for a new television show to feature "Gary Seven" and "Roberta Lincoln". If only... imagine the link to present-day Trek.

Oh well, so much for "If Onlys..."

But spin-offs aside, "Assignment: Earth" is a fun time-traveling episode to watch because you never truly know whether or not Gary Seven is a good guy or a bad guy. Even in the end, when all turns out as planned, you're still left with a bit of a mystery with Mr. Seven and his 'associates'.

And what about that cat?

Ahem. Anyway, it's an interesting trip back to Earth of the 1960's with a relevant issue at hand. The story does focus more on Seven and Lincoln, but that's to be expected. It would have been nice to revisit them, or Mr. Seven at a minimum again in a future episode, but - well, no use crying over spilt milk, right?

|Back| -- |Home|
---
---
Follow Cygnus-X1.Net!


---

Donations are used to offset the cost of running and maintaining this site.
A single dollar goes a long way :-)
Thank you!
---
---